Beginner's Guide: Screen Guide
It will simply guide you into the features of little menu you can see on the screen of the game "Legion of Heroes".
The Default Screen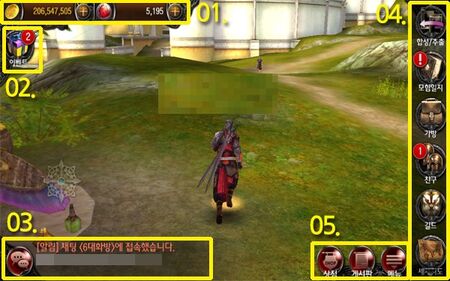 01. Information window in the top left
In the information window in the top left, you can check your gold and heart possesion. You can press the number or the "+" button to buy more in the shop.
02. The top left events button
You can press the events button on the left side of the screen to see the events that are currently in progress in the game.
You can participate to Phase Rift, Bounty Hunting, etc... by pressing this button.
03. The chat room at the bottom left
There is a chat room at the bottom left of the screen. Press the speech bubbles button to enter in a full screen chat room.
04. The right side scrolling menu
The right of the screen has a scrolling menu. The most used button in the game are here.
05. The bottom right menu button
Right below the screen, you have a shop / bulletin board / menu button.
Press the menu button, you can check the menu of challenges, postal, NPC favorites, auction, preferences, log out.
The Battle Screen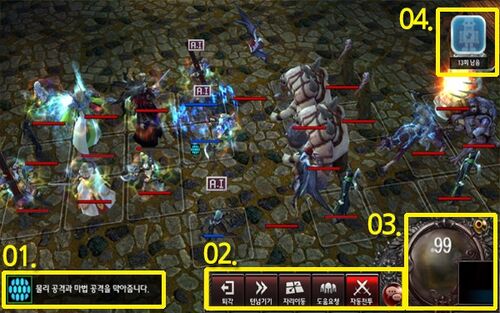 01. In the bottom left is described the skill effects
It 's only an information about the skill effect activated in battle. If the description is not needed it can be turned off in the Preferences.
02. The menu bar at the bottom of the screen
At the screen bottom, there is a menu bar.
You can use: Retreat, skip, move, get help, auto battle, chat room.
03. Fury and skill information at the bottom right
On the bottom right of the screen, you can check the fury level and use the skill of the selected hero by pressing the skill button.
04. Repeat battle button at the top right (Tower of Chaos)
In tower of chaos, during repeat battles, a "battle repeat" button appears at the top right of the screen.
If you want to stop the fight in the middle of a repeated battles, press the button to cancel the repeated battles.
Source: http://cafe.naver.com/legionofheroes/book4490092/145918
Ad blocker interference detected!
Wikia is a free-to-use site that makes money from advertising. We have a modified experience for viewers using ad blockers

Wikia is not accessible if you've made further modifications. Remove the custom ad blocker rule(s) and the page will load as expected.