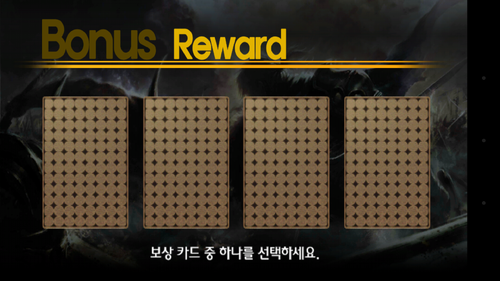 Select a card (no matter which one you will select, your reward is already choosen).
In the card, you will find
gold (4 differents kind of amount, I have never had the high one)
bandages (deleted 08/07/2015)
exp x2, exp x3 or exp x4
Bronze, silver or gold tickets
The amount of gold or bandages, and the season of the tickets depends on the mobs you fight.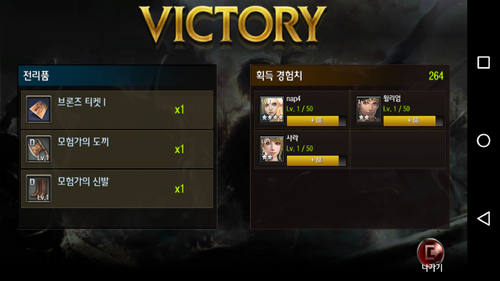 In the left is a summary of what we won:
Bronze (Be-ron-je) ticket (ti-kes) I from the previous screen
Drops from mobs we killed (an Axe and shoes). The level indicated on the drop is the minimum level required for hero to wear this item.

In the right is the summary of the heroes who fight:
the global exp (be careful, there is a bug with weak heroes if they change level, the number may be wrong)
The experience win by each hero (same bug)
The global experience is always the same (there are rare exceptions) for a mob. You can found the list here (It's a work in progress). You can have more exp during the battle if you encounter a moquette and kill him. He will give you a special reward (chest, tickets, gold...) and more exp.
You can leave this screen with the button on the bottom right or wait until it close itself.
Follow the "hand".
You have done your first quest, here are your rewards: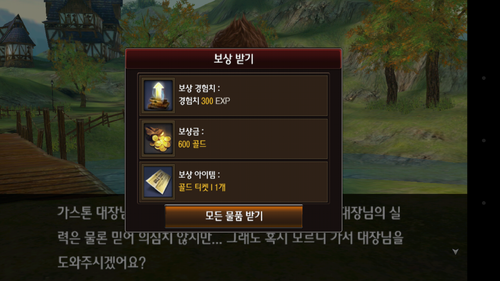 300 Exp for your main team
600 gold (gol-deu)
Gold ticket I x1
(gol-deu ti-kes I 1ge)
Push the button and follow the hand to do your next quest.
Do the 4th first quests. You must be level 5 after the 4th quest. See the Main Screen for a description of the interface.
Ad blocker interference detected!
Wikia is a free-to-use site that makes money from advertising. We have a modified experience for viewers using ad blockers

Wikia is not accessible if you've made further modifications. Remove the custom ad blocker rule(s) and the page will load as expected.