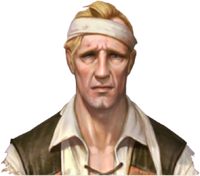 General Information
Felton is a quest NPC. He is a resident of Nottingham and a skilled fighter.
Trivia

This section contains spoilers relevant to the storyline.


Felton is one of Nottingham's most skilled fighters, second only to Gaston.
He is married to Emily.
Felton and Emily are having a baby. After hearing about that, he withdrew from the Nottingham Militia to take care of the baby and his wife.