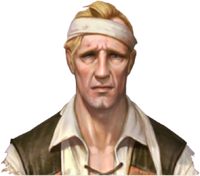 General Information
Felton is a quest NPC. He is a resident of Nottingham and a skilled fighter.
Trivia

This section contains spoilers relevant to the storyline.


Felton is one of Nottingham's most skilled fighters, second only to Gaston.
He is married to Emily.
Felton and Emily are having a baby. After hearing about that, he withdrew from the Nottingham Militia to take care of the baby and his wife.
Ad blocker interference detected!
Wikia is a free-to-use site that makes money from advertising. We have a modified experience for viewers using ad blockers

Wikia is not accessible if you've made further modifications. Remove the custom ad blocker rule(s) and the page will load as expected.